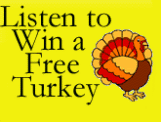 KROS has teamed up with your Clinton Hyvee to give away gift cards for a free turkey during the weeks of November 9th and November 16th. Listen throughout the day Monday thru Wednesday for the turkey feather color at each of our participating sponsors, write them down, then on Thursday and Friday, during Gary in the Morning we'll ask you to call in and identify the turkey feather color for each sponsor. If you get them all correct you win a free turkey courtesy of the Clinton Hyvee Store. Listen for the turkey feather color for the following businesses:
*Click on the sponsors to go to their website or Facebook page.
It's our way of wishing you and your family a Happy Thanksgiving! Listen and win on KROS FM 105.9 & AM 1340!