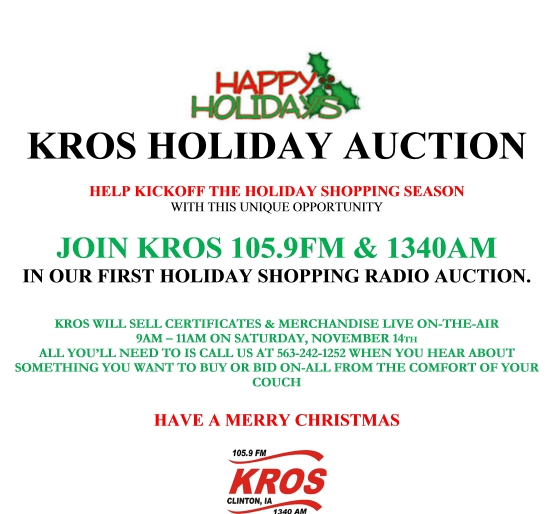 When?
Saturday, November 14, 2015
The auction will begin at 9am and finish by 11 AM
How does it work?
Our on-air personalities will be broadcasting on 105.9FM and 1340AM KROS RADIO
Call 1-563-242-1252 to enter purchase 'Buy Now' items when items are announced on the air or enter bids auction items. You'll need to provide your telephone number for identification. When you call in you go on the air "Live" with us. You'll receive a call back to confirm your purchase.
Auction or "Bid" Items
The Radio Announcers will announce Bid Items with an opening bid. All you have to do is call in to place your bid on that item. If you want to increase the bid, you must increase by the announced increment. Whoever has the highest bid when the closing on that item will win the auction for that item. There may be a minimum price on some auction items.
Buy It Now Items
We will also have "Buy Now" items. These are items that have been given a set discounted price. All you have to do is call in when the availability of "Buy Now" items are announced. There may some limits on the number of specific items you may purchase.
We will not accept a bid, or a request to purchase a Buy Now item until the item has been announced on the air by the radio announcers.
Any expiration date on the certificate is determined by the business. KROS is not responsible for certificates not used before an expiration date.
Certificates for the items can be picked up at KROS Studio at 870 13th Avenue North, Clinton, Iowa. Certificates for auction items must also be picked up at the KROS Studio and the item picked up at the business. Certificates can be picked up beginning November 16th, 2015 after 10AM. Certificates must be picked up November 27th by noon or items may be re-sold.
We accept cash or checks (subject to change)
For further information, please call us during our normal office hours at 563-242-1252
Thank you for participating in KROS's Radio Auction.
Disclaimer:
· All bids & selling prices are accepted in good faith and considered a binding transaction
· Selling price must paid in full to KROS RADIO by Friday, November 27TH at noon or items may be resold.
· All applicable tax must be paid directly to merchant
· KROS RADIO has full authority as to what bids are accepted and the final selling price
· KROS RADIO has the right to withdraw any offered item at any time
· KROS RADIO is NOT responsible for lost certificates after redemption
· KROS RADIO strongly suggests you view items auctioned before making a bid
· There will be a Convenience Fee for credit card purchases
All Bids Final!